Harlan Coben returns with a standalone thriller that explores the depth and passion of a lost love . . . and the secrets and lies at its heart.
Six years have passed since Jake Fisher watched Natalie, the love of his life, marry another man. Six years of hiding a broken heart by throwing himself into his career as a college professor. Six years of keeping his promise to leave Natalie alone, and six years of tortured dreams of her life with her new husband, Todd.
But six years haven't come close to extinguishing his feelings, and when Jake comes across Todd's obituary, he can't keep himself away from the funeral. There he gets the glimpse of Todd's wife he's hoping for . . . but she is not Natalie. Whoever the mourning widow is, she's been married to Todd for more than a decade, and with that fact everything Jake thought he knew about the best time of his life—a time he has never gotten over—is turned completely inside out.
As Jake searches for the truth, his picture-perfect memories of Natalie begin to unravel. Mutual friends of the couple either can't be found or don't remember Jake. No one has seen Natalie in years. Jake's search for the woman who broke his heart—and who lied to him—soon puts his very life at risk as it dawns on him that the man he has become may be based on carefully constructed fiction.
Harlan Coben once again delivers a shocking page-turner that deftly explores the power of past love and the secrets and lies that such love can hide.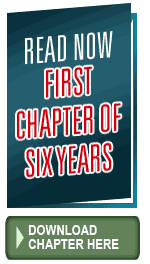 Six Years is now available in paperback.
Watch the Book Trailer
Reviews
Jake Fisher finds the love of his life, Natalie, and imagines their future together as husband and wife. Instead, she dumps him and a few days later then invites him to her wedding to a man she just met. Jake watches Natalie take her vows, and she tells him to leave her alone forever. For six years, he keeps that promise. But when he sees Natalie's husband's obituary, Jake decides to attend the funeral and comfort Natalie. He is stunned to discover that the man's widow is not Natalie and that the church where he watched her marry has no record of the ceremony.
Verdict Coben is one of the best thriller writers in the business, and he delivers another amazing novel that will resonate with readers long after the final page is turned. The narrative is immersive, and the well-drawn characters and twisting plotting are stellar. With such a cool hook and a surprising and satisfying payoff, don't wait six years to read what might be Coben's best since Tell No One. —LIBRARY JOURNAL (starred review)
More Praise for Harlan Coben's Six Years
"A Harlan Coben Home Run. Stunningly effective. This is Coben's Vertigo, his masterpiece."
– Providence Sunday Journal
"With Six Years, the author shows once more how it's done. The beauty of Coben's craftsmanship here is how often he can lure us into not perceiving what's clearly right in front of our eyes." – Washington Post
"A page-turner of a thriller…. Six Years displays Coben's prodigious talents in full force." – Richmond Times-Dispatch
"[A] perfect-for-spring-break thriller. It's a tale of one man's love for a woman and how everything he thought he knew puts his life in danger. Hooked yet?" – Entertainment Weekly's Pop Watch
"Any new book from Coben is a cause for celebration, and one as good as Six Years is cause for jubilation."
– Huffington Post
"Mind-boggling…. Riveting reading." – Booklist, starred review
"Most ingenious." – Publishers Weekly
"Six Years is a mind blowing, brain twisting, knuckle biter where nothing is as it seems." Coben never fails to deliver on his promise to keep readers riveted to their seats until the final page." – FreshFiction.com
"His best book yet…This is one of those reads that will have you turning off your phone and keeping you up until the wee hours of the morning." – Suspense magazine
"Six Years… is one of [Coben's] most clever and ambitious efforts to date." – Book Reporter.com
Cool Movie News!
Hugh Jackman to Star in 'Six Years' for Paramount. Read more here.